Jurassic World: Dominion Dominates Fandom Wikis - The Loop
Play Sound
Some parts of this article are untranslated!
Yakankou sappou needs its song production/character information, music comment(s), net self lines and/or staff comments translated.
Yakankou sappou contains missing or untranslated lyrics.
You can help the Pop'n Music Wiki by writing down the original lyrics or the missing translations!
Lyrics
[
]
 脳みそだらけのかかし...
 
 脳みそだらけのかかし
 臭い便所 臭い便所
 脳みそだらけのかかし
 臭い便所 臭い便所
 
 終わりなっちゃ...
 
 脳みそだらけのかかし
 臭い便所 臭い便所
 脳みそだらけのかかし
 臭い便所 臭い便所
 
 終わりなっちゃ...
 
 脳みそだらけのかかし...

Song Connections / Remixes
[
]
Trivia
[
]
According to Osamu Migitera, Otakki Suzuki is a close friend of him.

It is highly speculated that Otakki Suzuki is an alias of Tomohiro Suzuki, also known as DJ *SUZUKI, composer of アルファ.

Part of 夜間行殺法's background uses a slightly modified version of the original pop'n music MISS background.
Curiously, the pop'n music 11 AC ♥ CS pop'n music 9 POP'N PASSPORT credits the composition and arrangement only to Otakki Suzuki.
Music Comment
[
]
Untranslated.
Song Production Information
[
]
Untranslated.
Difficulty & Notecounts[1]

[

]
pop'n music difficulty rated from 1 to 43 through pop'n music 20 fantasia, and 1 to 50 from Sunny Park onwards.
Game
Standard
Battle
5
N
H
EX
N
H
Notecounts
336
392
675
-
342
461
pop'n music 11→14 FEVER!
10
15
32
-
17
23
pop'n music 15 ADVENTURE→20 fantasia
10
15
↓29
-
17
23
pop'n music Sunny Park→Present
-
21
35
-
17
23
pop'n music 11 CS
10
15
32
-
17
23
pop'n music 12 いろは CS
10
15
32
-
17
23
Gallery
[
]
Videos
[
]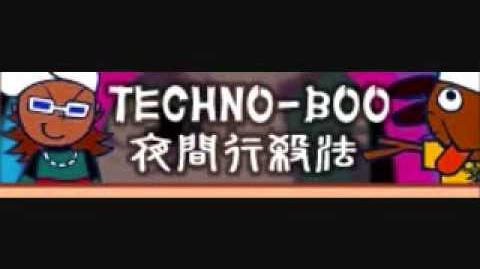 References
[
]