so i was wondering about this staff comment for MEGANE ROCK.
if u dont know what that is idk what i can say well the thing is that the comment was all out of topic talking about NAKAJI and the anagram behind KONAMI and NAOKI M bluh bluh instead of the song itself i mean what the heck

And this brings up the theory that anagram has smth to do with nakajis real identity and whelp guess what ?? ?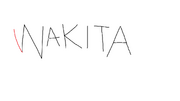 nakaji is wakita!! my theory is waaay too perfect to b debunkd so handz down!!

jk but wac does look like nakaji and theyre both edgy as shittus so who knows
Community content is available under
CC-BY-SA
unless otherwise noted.