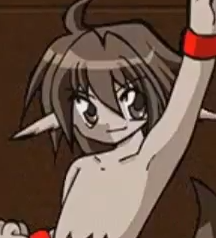 Hi there! You might know me as a huge fan and addicted to rhythm games, but i'm also a fan of Pop'n Music. I first discovered this game back in 2011, when i first have heard of Konami Krazy Racers, and i still love it to this day. I have played Pop'n Music before in London and at home (though i don't have a memory card). In Pop'n Music, i can play songs to a level 30 (PS2) and Level 25 (AC), though harder levels stresses me a lot, though i still enjoy playing it.I'm also into another rhythm game apart from Pop'n Music; it is a game called ぱるメロ, or Pal Melo. My Main favorites are Meira and Yumemi from Touhou Project, and they are very important to me as a whole, but apart from them i also like Poto, Miyu, Coo, Sanae, Fernando, Rie, Poet and Chiruka :3 I 'm very friendly, so i hope we can be good friends :3 I'm an introverted person who doesn't like to talk a lot, but please do not talk something embarrassing. ,
My Likes and Dislikes
Coo li do llla i do! Ikyou!!!

LIKES
Rhythm games
Cute things
Anime/Games
Touhou Project
Pal Melo
Drawing
Friendly People
Pop'n Music
Just Dance of course
To draw
School
nostalgic and the game music genre
DISLIKES
Stress
Feeling embarrased
Being alone
Being bored
Getting a real boyfriend (i do not and never will)
Bullies
Users with a bad attitude
No time to draw
No ideas
Being shy (i'm actually shy)
Meat
Mean people
Community content is available under
CC-BY-SA
unless otherwise noted.