Help Wanted!

Tentai Kaleidoscope's lyrics are currently unknown or have not yet been translated.

Lyrics
Japanese
駆けて行く世界 ゆらゆら
泳ぐ 花色の 夜明け前

落ちて行く欠片 きらきら
浮かべ揺蕩う グラスの中

鏡の中 逆さま世界
手のひらのコンパス 指し示す光の元へ

月と星座の カレイドスコープ
ふたり占めした 星の欠片が 空に輝いた
手を繋いだら どこまでも飛べる
二つの空と海と 虹の軌跡
交わるその彼方 先の場所へ

廻る世界の カレイドスコープ
ふたり目指した 最後の夢が そこにあるのなら
手を繋いだら どこまでも飛べる
二つの星と雨と 風の唄が
生まれたその遥か 先の場所へ

Romaji
kaketeiku sekai yurayura
oyogu hanairo no yoake mae

ochiteiku kakera kirakira
ukabe tayutau GLASS no naka

kagami no naka sakasama sekai
tenohira no COMPASS sashishimesu hikari no moto e

tsuki to seiza no KALEIDOSCOPE
futari shimeshita hoshi no kakera ga sora ni kagayaita
te wo tsunaidara doko made mo toberu
futatsu no sora to umi to niji no kiseki
majiwaru sono kanatasaki no basho

meguru sekai no KALEIDOSCOPE
futari mezashita saigo no yume ga soko ni aru no nara
te wo tsunaidara doko made mo toberu
futatsu no hoshi to ame to kaze no uta ga
umareta sono haruka saki no basho e

Song Connections / Remixes
None.
Trivia
天体カレイドスコープ is one of the songs part of the Odai ni idonde create! pop'n original gakkyoku contest☆ daishuurokusai (

お題に挑んでクリエイト!ポップンオリジナル楽曲コンテスト☆大収録祭

?

) contest of pop'n music éclale.
天体カレイドスコープ marks sisi's first BEMANI song without Shingo.
According to PON, 天体カレイドスコープ was submitted under the "MAGICAL GIRL" theme.
Music Comment
None.
Song Production Information[1]
Ametsuchi E-Nikki
Pleased to meet you. We're the group named Ametsuchi E-Nikki.
After we received to adopt our music this time, thank you very much.
"Ametsuchi E-Nikki" is a collaboration unit by Honjo Daikichi (Composition), sisi (Vocals), and sora (Guitar).
We have representation with music keys;
Ms. sisi's casually provided her voice and I worked with the speed of the guitar sound to
the sparkled look of the world of the image like you're grabbing a star, while flying to a large sky.
It's a pleasure to meet you, please.
Staff Comment
PON
The theme of the adoption music is "Magical Girl".
Koi no Charade is an impression of modern magical girl version that came in from a different world.
It firmly gets out a magical atmosphere, so the lyrical world is romantic, in addition to use shining sounds.
It has been expressed that the group has representation like they turn to fly to the starry sky with a broom.
The songs are recommended as one tune to have good, familiar ears.
Difficulty & Notecounts[2]
Game
Standard
Battle
E
N
H
EX
N
H
Notecounts
118
520
823
1119
453
534
pop'n music éclale→Present
7
26
38
43
24
27
Gallery
Videos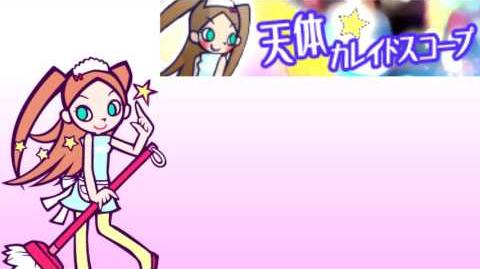 References