Lyrics
Nihongo
 これははるか昔 古のころから つたわる伝説

 白く浮かびあがる ふかき森のむこう
 ゆらりゆらりと 妖しくつやめく 蒼月が昇る

 その夜 ひとつの星が降る
 白き森へと 星が降る
 ひかりの絶えぬ 夜明けまでに
 手にした者の 願いが 届く

 ・・・・いくつめの ねがいだろう?

 すこし すこし 消ゆるひかり
 そのなかで ほほえみあう かげぼうし

Romaji
  Kore wa haruka mushi
  inishie no koro kara
  tsutaware densetsu

  Shiroku ukabiagaru  fukaki mori no mukou
  Yurari yurari to
  ayashiku tsuyameku
  sougetsu ga yoboru

  Sono yoru  hitotsu no hoshi ga furu
  Shiroki mori eto  hoshi ga furu
  Hikari no taenu  yoake madeni
  Te ni shitamono no  negai ga todoku

  ...ikutsu me no  negai darou?

  Sukoshi  sukoshi  kiyuru hikari
  Sononaka de  hohoemiau  kageboushi

English Translation
  Here is an old legend, handed down through the ages...

  White fog arises from beyond the deep forest
  Treetops swaying, a brilliant blue moon ascends into the sky.

  Tonight, a single star is falling...
  Falling into the White Forest.
  Its light doesn't go out until the dawn.
  Into my grasp, a chance to make a wish has been delivered.

  ...how many wishes do I have, I wonder?

  Little by little, the light goes out
  Eventually, I find myself smiling face-to-face with a phantom.

Song Connections/Remixes
None.
Trivia
白い森の伝説's songwheel genre is ノクターン. The banner genre reads as "yasoukyoku".
In the pop'n music data, 白い森の伝説 is named "nuit", the French word for "night".
Music Comment
A beautiful, yet suspicious night world, the senses between the dream and reality wanders off.
Difficulty & Notecounts
Game
Standard
Battle
5
N
H
EX
N
H
Notecounts
177
255
432
618
350
417
Pop'n Music 13 CARNIVAL→FEVER!
6
9
22
29
18
20
ADVENTURE→fantasia
6
9
22
↑31
18
20
Sunny Park→Present
-
15
28
37
18
20
CARNIVAL CS
6
9
22
29
18
20
Gallery
Video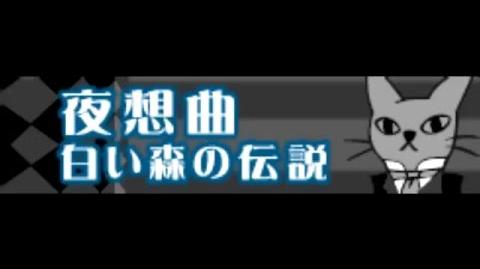 Community content is available under
CC-BY-SA
unless otherwise noted.