Pop'n Music 10 (ポップンミュージック10, Poppun Myuujikku 10?) is a 2003 Japanese music/rhythm video game developed by Konami and Bemani, and the official tenth release of the Pop'n Music series.
Song List
You can view the full CS song list here.
Original
New Charts
See New Charts here.
Difficulty Changes
Due to the big amount of rerated songs in pop'n music 10, the Difficulty Changes list has been moved to its own page.
Trivia
AC
First pop'n music game with a female announcer.

It is also the first to change sound effects.
Pop'n Music 10 is also the first pop'n title not to have the title's current jingle from the first 9 games, but a different theme.

First pop'n music game with SUPER RANDOM, STAGE-POP, CHARA-POP, and HIGH-SPEED 6.
First pop'n music music game where song selection, song confirmation, and post-song stats fade in from one another, instead of turning black and loading up the next screen.
Only arcade pop'n music game with LOW-SPEED.
Last arcade pop'n music game to feature a new song from Atsushi Shindo.
Asaki makes his pop'n music debut.
It's the first time that Mimi is place to the left and Nyami placed in the opposite in the title, unlike the previous 9 games.
Pop'n Music 10 was released in August 2003 with a day unknown, because Halloween in Japan is celebrated in August instead October.
CS
This is the only known CS pop'n music game to date with an animated commercial.
Atsushi Shindo's new AC song, ナーバス ブレークダウン~タイプゼロ~, is missing from the songlist, due to the expiration of his contract.
DSCHINGIS KHAN and ウキウキWATCHING are missing from the songlist as well, due to licensing issues.
Gallery
Merchandise
Video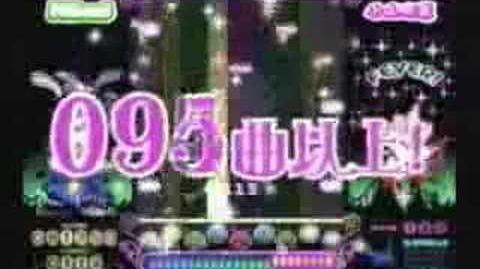 References
Pop'n Music 10 official website
Community content is available under
CC-BY-SA
unless otherwise noted.