Too bad!

This article is not completed or was introduced as a stub. Unfortunately, this article may have lack of information, vulgar interceptions, or unknown lyrics.
You can help Pop'n Music Wiki by expanding it.

Oops!

Lucy is missing some animations or character artwork, or the current images are unsatisfactory.

I don't know what you're saying-Mimi

Lucy needs its music comment, production information, and/or staff comments translated.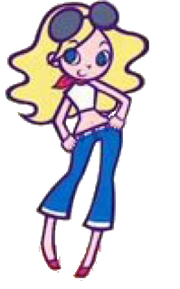 Lucy is a character of Pop'n Music 9 CS.
Personality
うわさのスーパーグラビアガール! 「play pop'n」誌で大活躍らしいよ。 最近、ゴーグル宇宙犬につきまとわれて大変!
Super gravure girl full of rumors! A big success in "Play Pop'n" Magazine. Recently, she's been haunted by goggle-wearing space dogs!
Appearance
Lucy has blonde wavy hair and blue eyes. She wears a white tank top with a pink handkerchief, sunglasses, blue pants and red heels.
Trivia
The "goggle-wearing space dogs" referred to in Lucy's bio are Leicars, who also cameo on her MISS animation.
Gallery
Animations