I don't know what you're saying. - Mimi

Geometric∲Tea Party needs its music comment, song production information, and/or staff comments translated.

Lyrics
None.
Song Connections / Remixes
None.
Trivia
Despite that pop'n music 16 PARTY♪'s TENT-KANT is used in ジオメトリック∮ティーパーティー, TENT-KANT received a new portrait and can be selected as a new character in the pop'n music éclale character category.
ジオメトリック∮ティーパーティー can be purchased on the Star Factory shop for 950 lumina. To purchase it, you need to acquire the TENT-KANT character medal in the Pop'n Star Maker (

ポップンスターメーカー

?

) event.
ジオメトリック∮ティーパーティー's HYPER chart was re-rated in pop'n music éclale on March 22nd, 2016.
Song Production Information
Difficulty & Notecounts[1]
pop'n music difficulty rated from 1 to 50 from Sunny Park onwards.
Game
Standard
Battle
E
N
H
EX
N
H
Notecounts
314
697
1088
1492
391
700
pop'n music éclale (Original ratings)
17
34
45
49
21
35
pop'n music éclale→うさぎと猫と少年の夢
17
34
↑46
49
21
35
pop'n music peace→Present
17
34
↑47
49
21
35
Gallery
Videos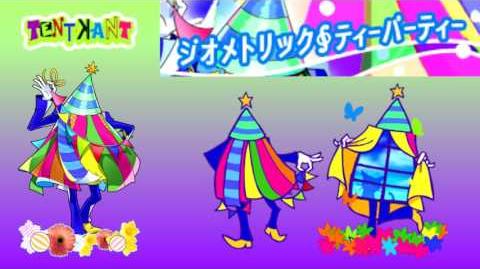 References