I don't know what you're saying-Mimi

Earth Beat needs its music comment, production information, and/or staff comments translated.

Lyrics
None.
Song Connections/Remixes
Earth Beat shares a sound sample, heard during the breakdown, with 星屑のキロク.
Trivia
Earth Beat marks Tagushi Yasuhiro's first appearance as CAPACITY GATE in the Pop'n Music series.
On the Pop'n Music 20 location tests, the character appears as Unbabo.
In the pop'n music data, Earth Beat is named afrotag, which confirms that CAPACITY GATE is an alias of Yasuhiro Taguchi.
According to PON, Earth Beat originally was 150 BPM.
Music Comment
The overflowing rhythm and the earth's beat. Dance, dance, dance until the morning.
Difficulty & Notecounts
Game
Standard
Battle
5
N
H
EX
N
H
Notecounts
221
374
825
1104
221
374
Sunny Park Location Tests
15
18
34
40
17
23
Sunny Park→Present
-
24
40
46
17
23
Gallery
Video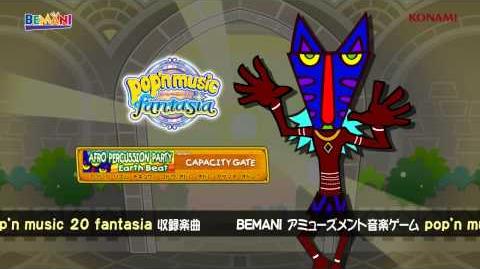 Community content is available under
CC-BY-SA
unless otherwise noted.