We're Getting Mutants in the MCU - The Loop
Play Sound
CRAZY WORLD contains missing or untranslated lyrics.
You can help the Pop'n Music Wiki by writing down the original lyrics or the missing translations!
Lyrics
 ネガティブ妄想ねじ伏せろ
 虚言壁連鎖アツイ罠
 退屈なLIFE愚痴る日々
 壊れた感情が疼きだす
 
 眩しい光に誘われたピエロ
 寂しい心の解き放て破滅
 
 CRAZY WORLD 錆びた鎖の罠
 ビビッてないで斬り裂け
 夢って何だ?ZEROからまた
 動き出すTIMER
 
 
 犠牲になるのは自分だけで良い何て
 綺麗ごと並べ また一人孤独
 
 
 CRAZY WORLD
 非情な戦列デビュー
 ビビッてないで蹴りだせ
 愚痴ってないで ひるがえせ
 渾身REVOLVER
 CRAZY WORLD 錆びた鎖の罠
 ビビッてないで斬り裂け
 背筋凍る様なバトル
 時効まで0と1
 攻めろTIMER

 NEGATIVE mousou nejifusero
 kyogen kabe rensa atsui wana
 taikutsu na LIFE guchiru hibi
 kowareta kanjou ga uzukidasu
 
 mabushii hikari ni sasowareta PIERROT
 sabishii kokoro no tokihanate hametsu
 
 CRAZY WORLD sabita kusari no wana
 bibittenai de kirisake
 yumette nanda? ZERO kara mata
 ugokidasu TIMER
 
 gisei ni naru no wa jibun dake de ii nante
 kirei goto narabe mata hitori kodoku
 
 CRAZY WORLD
 hijou na senretsu DEBUT
 bibittenai de keridase
 guchittenai de hirugaese
 konshin REVOLVER
 CRAZY WORLD sabita kusari no wana
 bibittenai de kirisake
 sesuji kooru you na BATTLE
 jikou made ZERO to ichi
 semero TIMER

Song Connections / Remixes
None.
Trivia
CRAZY WORLD is sei☆shin's first solo song in BEMANI.
Music Comment
Song Production Information[1]
sei☆shin
This time, the song theme is roughly "90's ballad rock",
by changing this period J-POP into stone by myself! And the melody was complete music,
coming down together with the lyrics and the tune.
Everybody, please change the game and the music together (laughs).
Staff Comments
Oya
It reminds me that it was the first time I played Pop'n Music.
That time I rushed through by bicycle, placing 100 yen everyday in a wallet...(keenly)
Konya
I feel a bit nostalgic for my most favorite song of that time. It's that time that has been carryign around stuffing tunes with MD. I also care that it's different.
By the way, I heard that a person was frightened and doesn't understand the MD.
Tama
Bunny Timer came!
In those days, owing the actions, boy or girl, I don't understand.
PON
sei☆shin received one song to materialize Timer. Sincerely, I think he is manly, straightly speaking full-blasting Timer from the lyrics; rather to reference, preface, and create a character. Admirable.
Aside from 742 and sei☆shin, I tell if I wonder if it's dimly interesting when I met them out to center stage as BE students someday.
Difficulty & Notecounts[2]
pop'n music difficulty rated from 1 to 50 from Sunny Park onwards.
Game
Standard
Battle
E
N
H
EX
N
H
Notecounts
113
398
757
1120
322
400
éclale→Present
5
22
37
44
17
22
pop'n music Lively
5
22
37
44
-
-
Gallery
Videos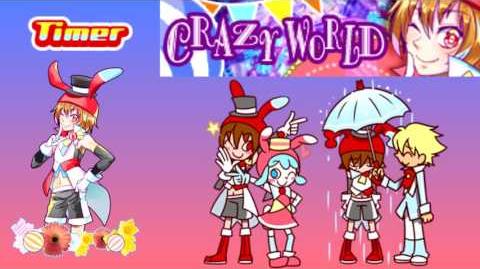 References