Belle is one of the characters of Pop'n Music 5. She have moved to Japan to study from French.
Personality
Belle is a kind and gentle character who lives in Paris, France.
Appearance
Belle is wearing a red sweater with a pink-blue-yellow-orange patterned skirt. She accessorized herself with hot pink long socks with black shoes.
Song-une fille dans la plue
Artist-Fabbiene Haber
Animations
Neutral-Standing
Bad-Ignores
Good
French Bossa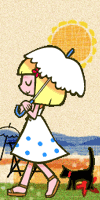 Belle wears a white dress with sky blue polka dots. She used sandals and a white umbrella, plus, wearing red flowers on her scalp. Belle have her black cat with a red bow.
Song-COQUETTE
Artist-SAKURAI yasushi feat. SAORI
French Cine Jazz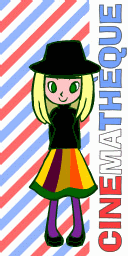 Belle was wearing a black sweater with an orange-yellow-purple cleaved skirt. Also, she wore black shoes with purple stockings.
Song- Le depart a L'Alpe d'Huez
Artist-ELEKTEL feat. Mayu-chan
License
ee'mall-French Bossa-LA BRISE D'ETE
Trivia
Belle is one of the bossa or gentle characters. The others are Sanae-chan, Waka, and Candy.
Belle's 2P modes of hair dying are changed to black (French Pop), hot pink (French Bossa), and red (French Cine Jazz).
The same thing as Waka, Belle is being much friendly to Sanae-chan and Rie-chan.
Belle is one of the characters who lived in Europe. The others, are the unknown tribute from the Magical 4,Dave, Henry, Cecil, Hamanov, and Roki.
Belle is one of the yellow-haired character. The others are Sora Hoshino, Ice, Rie-chan (2P), Shollkee, and Kikyo (2P)
Belle is one of the French characters. The others are Rie-chan, Tart and Toffee.