I don't know what you're saying. - Mimi

BeAchest beAch needs its music comment, song production information, and/or staff comments translated.

 潮風に誘われて 君の腕をとり海の中へ
 ワイキキ そう夢の砂浜 君と二人
 貝殻を首に飾り星と踊ろう
 うつむいたって何も見えない
 虹の架け橋渡ろう
 ワイキキ そうここでは誰もが大地の子よ
 潮風に誘われて 二人踊ろう

shiokaze ni sasowarete
kimi no ude wo tori umi no naka he
waikiki sou yume no sunahama kimi to futari
kaigara wo kubi ni kazari hoshi to odorou
utsumoi tatte nani mo mienai
niji no kakehashi watarou
waikiki sou koko de wa dare mo ga daichi no ko yo
shiokaze ni saworete futari odorou

I've been invited to the sea breeze, in the sea that takes your arm
Waikiki, you and me are on this dreamy, sandy beach
Let's dance with the stars that decorate on the seashell's neck
We can't see anything to downcast
Let's cross over the bridge of the rainbow
Waikiki, in here, anybody is an Earth child
We've been invited to the sea breeze, let's dance

None.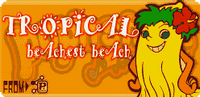 Due to the artist name mentioning Togo, beAchest beAch is often incorrectly credited to Hiroyuki Togo. It is actually composed by Shunsuke Kida.
Scott Dolph "MCs" beAchest beAch, introducing it before Sana starts singing, as well as talking in the middle. He mentions WKCE, a reference to actual software developer Konami Computer Entertainment.
Before pop'n music 9, beAchest beAch's Music Comment was the original Music Comment that used in pop'n stage.
South wind and ukelele, the comfort of tropical feeling.
That popular pop'n stage song appears in pop'n!
Game
Standard
Battle
5
N
H
EX
N
H
Notecounts
134
240
461
-
239
458
Pop'n Music 6 CS
6
12
23
-
-
Pop'n Music 7 CS
6
12
23
17
-
Pop'n Music 8 CS
4
18
27
11
17
Pop'n Music 8
↑11
↑17
↑26
-
11
17
Pop'n Music 9
↓4
↑18
↑27
-
11
17
Pop'n Music 10→20 fantasia
4
↓17
27
-
11
17
Sunny Park→Present
-
23
31
-
11
17
Community content is available under
CC-BY-SA
unless otherwise noted.